2019/20 School Reports
Read on to find out the schools' views on the sadly truncated 2019/20 season. Missing reports will hopefully be added shortly...
Aldenham
Triangular tournament at Shrewsbury; Open qualifying presentation
P 32 W 17 D 5
The new season began with great hope and expectation following the successes of last year. The main core of the senior group remained and with an extra years' experience much was hoped for – and expected!
The season also saw a change in the fives calendar with qualifying rounds introduced for the national competition. This gave a new shape to the Lent term and a focus for all the age groups. The first term was really about consolidation of the older years and stretching and developing the U14 and U15s. It also brought some new fixtures and we were especially delighted to welcome Holyport on a Saturday morning in conjunction with a girls hockey fixture. This proved to be a great success and provided some really competitive games played in the true spirit of Eton Fives. The Lent term got off to a cracker with the visit of Shrewsbury and Mill Hill on a bright January afternoon. The concept of triangular fixtures this term proved to be beneficial and provided some great opportunities for playing against new opponents. We managed to fi in the majority of our regular opponents such as Mill Hill, Eton, Westminster and Barnet but he focus of the Lent term was the tournaments. The seniors did incredibly well with Sam Harvey and Benjy Brick finishing runners up to a very good Ipswich pair having overcome Charterhouse in an epic 3 set quarter-final, the standard of these games was very high and the level of competitiveness coupled with the excellent sportsmanship from all made the new competition very worthwhile. The seniors also played in the Williams competition and whilst the standard of the elite schools proved as high as expected the experience proved in valuable and there were some very close match ups in the course of the day.
The U16 pair of Noah and Tom proved the masters of the U16 qualifying competition with some excellent team play as well as some excellent shot making. Overall, it has to be said the new formats provided a worthwhile and challenging level of competition for all our age groups and the triangular fixtures established a new pattern for the lent term. Of course, Covid rather stunted the finale for many but the Aldenham school team can be very pleased by how well they played and conducted themselves through the course of another hectic year. Finally my thanks should go to the coaching team of Luke , David and Roland for keeping the courts full and the Aldenham fire lit for another season.
Andy Stephenson
Belmont
Belmont Fives this year has had some notable achievements as well as some disappointing situations. We have struggled significantly for interest in the U13 boy's category with one pair which unfortunately for different justifiable reasons, stopped playing before the end of the season.

Girls Fives continues to grow in numbers significantly with the Year 7 & 8 girls club having to be split over two days for the different year groups. It was great to take four pairs to the U13 girl's nationals at Harrow which was a fantastic day and the girls got a lot out of it. The first pair were unlucky to not reach the quarterfinals after a tough match against Highgate. Congratulations also to the second pair who reached the final of Plate A before losing narrowly to Ipswich. A lack of fixtures for the girl's team is a major issue to our setup at the moment, however, enthusiasm from the girls remains extremely high.

The U12 boys, were numbers are also very high have had a good season, winning four of their seven interschool fixtures. Jake T has impressed all season and his win at the REFCA U12 individual competition was well deserved. We are currently lacking strength in depth in this category. At the U12 Qualifying tournament, the first pair reached the final and were due to play Cranleigh until the season, unfortunately, ended early.

At the start of the year, we struggled for numbers with the U11s, however, it gradually grew with a good number of beginners taking up the game in Year 5. We took three pairs to the U11 nationals and I was pleased with the performance of the first pair, reaching the last 16 before losing to Berkhamsted. Pairs 2 and 3 reached the semi-final and quarter-final of plate A respectively.

The challenge of balancing clubs and fixtures between boys, girls, Mill Hill and Belmont on the three courts is an increasing one with number of pupils and fixtures always on the up. It would not be possible to run at its current level without the help of Mr Ollie McGuinness who constantly supports the game and encourages pupils to play. My thanks also to Mr Bob Pace who kindly agreed to come out of retirement to help coach the Year 5 & 6's whilst I was away on fixtures with Mill Hill. I am also pleased that we have completed the paperwork to have Sachin Balaji and Swastik Gupta join us as part-time coaches. Although we weren't able to get them in much this year, I look forward to seeing the great contribution I know they will when fives restarts.

Awards this season went to:

Krendel Fives Cup – Jake T

Most Improved Player – Amelia C

Mason Girls' Fives Cup – Hannah T-Y

Under 11 Cup – Jaik P

The Bob Pace 'Best Pair' shield – Jake T & Jaiveer S

Fives Colours – Charlotte C, Mia G, Mia L, Sophia G, Naomi A, Priyasi J, Oliver W, Max V, Luke D
Andrew Rennie
Berkhamsted
No report received yet
Bryanston
No report received yet
Charterhouse
It has been another encouraging year for Fives at Charterhouse. The main change is that we now enjoy the position of having a settled coach who is able to come two or three times a week. That Oliver Callaghan Brown is an excellent player and a thoughtful student of the game was all the more important as Mr Nelmes was injured for much of the year. It is no coincidence that we had three seeds (one Open and two novice pairs) for the first time in 20 years.

The game continues to enjoy a healthy interest at all levels: we have had several successful inter-house competitions run over the year, with Verites emerging as Junior champions, Chetwynd the girls and Bodites the winners of the Senior competition after a tight final with Davieistes. We more than held our own on a competitive schools fixture list. Representing Charterhouse in fixtures and tournaments (including the Vargas trophy which we hosted for the second time) have been everything from superb yearlings making an excellent start to their Fives-playing careers in the Fourths to the strongest set of senior pairs we have had for many years. In the LQ we have enjoyed wins at U16, U15 and Yearlings against Westminster, Highgate and Eton; there has also been some good girls' Fives played by Anna P Suwannakit (C) + L Petermeijer (F).

The most heartening prospect for next season is the number of boys in the Yearlings and 1YS playing the game at a good level. The first pair ( Hector Platt (B) and Finlay McLellan(D) ) consistently tested the best pairs on the circuit . Jamie Marion (B) and Demi AA (V) took apart any second pair outside the hallowed premier league of Eton, Harrow and Shrewsbury. Charlie Howard (G) and Louis Thomson(S) were able to play in many matches but was pulled by their many commitments. First years Charlie Turner (G) , Toby Ball (B) , and Ambrose Witherspoon (B) gave excellent accounts of themselves in all school matches and would have learned a lot in the National tournament had it taken place. They are backed up by Jack Brown (H) and Sam Troy (G) who play when music and hockey allow. Next year Harry Church (G) and Henry Ambrose (L) will join then in the senior pairs.

The yearlings were led by the almost level first two pairs of Vlad Dmitriev (V) and Will Bishop(V); Max Ongko (G) and Perch Suwannakit (P)). These were only beaten by pairs who had played before save for one Etonian pair. They went to weekend tournaments for under 15s and held their own. This year group was also backed by a group of players who would be senior pairs in any other year. They were led by Sonny Albert ( G) and Oscar Quinton (W) who would have threatened the first two pairs had they been able to spend more time on the courts.

The highlights have been too many to list. I particularly remember four aspects. First we had the best overall pair in the Vargas salver. Secondly, there was the dominant performances of the yearlings as they dominated their opponents in most of their matches. Number three was the first visit by the Oxford University Women's Fives team who played a mixed Carthusian team. We hope to make this a regular fixture both at Charterhouse and Oxford. Finally, as this is fives, the high level of social commitment in the adult matches. The boys and girls involved in these matches impressed their opponents with their skill, sportsmanship and maturity at the dinner which always follows. Indeed the only disappointment was the disruption caused by COVD that prevented a formal conclusion to the season with the cancellation of National Tournament. However, as fives players, we have a sense of perspective: we remember the good and count out blessings.

Thanks must go firstly to our coach Oliver Callaghan Brown for bringing a fresh pair of eyes to the Fives club this year and a sense of enjoyment which has driven the club forward. We have been blessed by a captain, Hector Platt, a top player who has encouraged his peers and junior members of the club to play. Remarkably and head of school and a regular first XI footballer he missed no matches and managed to avoid injury despite pushing himself hard on court and pitch. Finally I should pay tribute to Jonny Nelmes who is moving on to Eton this summer. His remarkable enthusiasm for the game has only been held back by an injury and latterly fatherhood meant that JCT could tease him about his absence from the courts. We will miss him but expect to strengthen our fives connections with Eton next year.
John Troy
City of London
Unfortunately this year CLS did not manage to have any fixtures on account of a very small squad. Perhaps our biggest achievement is that three Old Citizens played in this year's Varsity match. We are hoping for bigger and better things next season!
Rahim Dharamshi
Cranleigh
No report received yet
Cranleigh Prep
U13 girls semi-finalists
It has been another very enjoyable and largely successful term at the Prep School. As always I should begin by thanking my colleague Mr Harry Thomas for all his work with the boys and girls this year. He is very generous with his time and energy and without his enthusiasm and talent Fives would be in a much worse state. We never fail to fill the courts in our after-school sessions and we have a small but dedicated core of players in both Year 7 and Year 8. We usually start with our Year 6s in the Summer Term so we may be a bit behind the curve next year.
We must have been one of the very few schools who were largely unaffected by the school shut down as most of the tournaments we enter take place before the end of the term. Therefore, there is lots to talk about. We are continually trying to extend the tournaments we play in and have enjoyed the addition of the U13 team competition where we had great fun again this year. The Martin Pett Trophy has been a welcome addition to the calendar and we surprised ourselves by coming third after losing out to Berkhamsted 1 in the semi-finals.
In the individual competitions I shall give the highlights of how we fared:

• U13 Girls Nationals- Phoebe Gray and Baye Hoctor-Duncan reached the semi-finals
• U13 Boys Nationals -Rory Smith and Oscar Carey reached the quarter-finals
• U12 Boys National Qualifiers- 4 pairs qualified for the National Mains. 2 pairs reached the semi-final where they were drawn to play each other. In a tense semi-final Humphrey Bown and Seb Stevenson narrowly defeated Ted Cooksley and Max Wheatcroft. The final was not played due to the lockdown
• U14 Boys- After last year's success James Marriott and Henry Prior had to play up a year against the Public Schools proper. In their qualifying competition they reached the final losing to a strong Ipswich pair. They have qualified a year early for the final stages- a remarkable achievement. Unfortunately, they did not get the chance to test themselves at the U14 Main.
The one competition that was lost to us this year was The Prep Schools where I felt we had the potential to do well.

It was also lovely to see last year's girls Effie Syvret and Charlotte Barr still playing. They reached the National final in the U14 Girls losing to the same Highgate pair they lost to last year. This is another remarkable achievement for the school.
So, in conclusion, it has been a another very enjoyable and successful year and we are looking forward to seeing the large group of current U12s developing next year.

Mark Halstead
Dover College
No report received yet
Emanuel
No report received yet
Eton
U16 House winners; Williams Cup champions; U15 House winners; U14 House winners' RDOC's 24 hour marathon
Throughout the various – and significant – ups and downs experienced this year, Fives at Eton has gone from strength to strength. Externally, we've competed in over fifty fixtures, with more than 90 boys taking part in competitive matches.
Internally, we've run over 10 separate competitions with over 100 players entering the New Boys Fives Competition. It has been an action-packed year of Fives but one which has seen circumstances hinder the opportunities for our extremely talented Etonian Fives players to showcase their abilities in the national competitions.
At Senior level, we have considerable strength in depth. Led from the front by Alfie Backhouse KS (COLL) and Milo Russell (PGW), we've achieved excellent victories against Highgate, St Olaves, Harrow and Shrewsbury – both home and away. The pair were richly rewarded with being allocated first seeds in the National U18s Championships before coronavirus reared its ugly head. Our second and third pairs have had an equally strong season. Ben Porter (AW), Henry Wilkinson (RDOC), Seb Hopkins (PGW), Henry Daly (JDN) and Jake Turcan (RDOC) made up our Williams cup team, which saw us regain the trophy without dropping a single set – a truly remarkable achievement. The Senior House Fives Final was won by Milo Russell and Seb Hopkins (PGW) who defeated Ben Porter and Hugo Lloyd (AW).

At U16s level, we have a considerable wealth of talent and players with a genuine passion for the game of Fives. Our first pair of Seb Hopkins (PGW) and Henry Daly (JDN) swept all before them in clinical and ruthless displays of attacking Fives. Our second and third pairs consisting of: Jake Turcan (RDOC), Henry Buxton (RDOC), Louis Hopton (PAH) and Max Krefting (PGW), ably supported our top pair and could easily be most schools U16s first pairs. The Under 16 House Fives Competition was a tightly fought competition between PGW and RDOC. Seb Hopkins and Max Krefting (PGW) narrowly beat Jake Turcan and Henry Buxton (RDOC) three sets to one. A special mention to Seb Hopkins (PGW) who managed to win the both the U16 House and Senior House Fives Final, a great – possibly unique - achievement.

Our team of U15s have shown huge improvements on their performances in F Block. Seb Corso (NPTL) and George Lythgoe (JCAJ) continue to lead the way at the top of the year, winning the majority of their matches. However, the most improvement has been made by our novice pairs from the previous year: Marcel Mauratille (NPTL), Oscar Turpin (PAH), Albert Davies (IRG), Oli Alcock (RDOC) and Hamish Bain (HWTA). In the Hughes Cup, despite some last-minute injuries to top players, we performed well to finish in second place behind a strong Harrow side. Our pair consisting of Oscar Turpin (PAH) and Marcel Mauratille (NPTL) managed to avenge their loss in the National U14s beginner final last year which meant they are seeded first for the Under 15 National Championships when this is rearranged. The U15 House Fives Competition was won by NPTL (Marcel Mauratille and Sebastian Corso), who collected the largest Fives Trophy in the cabinet, when defeating PAH (Oscar Turpin and Sebastian Hopton).

The most rewarding and exciting side of Eton Fives, is coaching newcomers to the game. We've been lucky this year to have so many talented boys take up the sport and progress tremendously quickly. Our U14s beginners led by Jackson Andreae (RDOC) and Ethan Chan (PAH) have swept all before them, beating many experienced players as well as beginners. Both Ethan and Jackson will undoubtably be a force to be reckoned with and I thoroughly expect them to be the competing and beating the top year group pairs around the country in the next year or so. The competition for first pair has been fierce and our second and third pairs consisting of: Aryaman Varma (NPTL), Rufus Howard-Vyse (PGW), Fergus Rich (ABH) and Daniel Hurst (IRG) have had some tremendous matches. The most improved player this year, has been Daniel Hurst, whose enthusiasm, passion and love for the sport has seen real progress and I'm sure he will be making his case for first pair in the years to come. Testament to the ability and talent of the current crop of F Block Fives players is evidenced by the fact that four of the top eight seeds in the Under 14 beginners' competition were Etonian pairs.
The New Boys Fives final is always a satisfying moment in the year, where we see over a hundred players whittled down to the final two pairs. This year, it was won by Jackson Andreae and Harry Nell (RDOC) who beat Ethan Chan and Seb Hopton (PAH) three-two in a roller-coaster final. The inaugural F Block Fives league was won by Fergus Rich (ABH) who managed to win eighty percent of his matches.

It goes without saying the impact of Covid-19 on school sport – let alone, the world – is huge. However, I would be amiss if I didn't mention the hard work that the Eton Fives players have put in throughout the year to get themselves into a position where they would have challenged for their respective age National Championships. Over the past two terms, all Etonian Fives players have put in a huge amount of effort, getting on court at all times of the day, weekdays and weekends. Boys have spent their short and long leaves, holidays and evenings playing fives, determined to improve to compete at the nationals. All boys deserve a huge amount of credit for the commitment they have put in over the course of the year and we all hope that there will be some form of conclusion to this Fives season.
Our Keepers of Fives this year were Alfie Backhouse KS (COLL) and Ben Porter (AW). Both boys have approached their roles with their unique personalities, resulting in an extremely successful year. Alfie's measured and considered approach has seen him work with boys of all ages, teaching and coaching them in all aspects of the game. He has worked extremely hard with his Fives and has improved dramatically as a result. This was evidenced in his remarkable run to the Kinnaird Cup, defeating the sixth seeds in straight sets before losing to the third seeds in the quarter-finals. In recent times, Eton Fives players – past and present – have always struggled to reach this stage of the competition, which makes it even more remarkable for a current schoolboy to do so. As mentioned earlier, Alfie was also seeded first in the national championships, which we hope to take place at some point later this year. Lastly, Alfie's contribution has been rightly recognised by the Eton Fives Association where he was nominated for the Young Player of the Year. Congratulations Alfie on a fantastic year.
Ben Porter's (AW) gregarious and passionate approach to his Fives has helped enormously when coaching the large number of new boy Fives players. He's proven to be a passionate and hard-working Keeper of Fives, which is underlined by his ability to get involved at any level within the Fives club. Ben's input into the Eton Fives twitter account has seen the twitter followers triple in a short amount of time. On the Fives courts, alongside his partner Henry Wilkinson (RDOC) they remain unbeaten this year, winning every single competitive school fixture. His shining moment however, was in the Senior House Fives competition where he managed to defeat his fellow Keeper of Fives and first seeds – Alfie Backhouse KS and Joe Menell KS (COLL) - to reach the final. Despite being one-nil down, Ben's customary determination and competitive personality brought his pair back from the brink to win two-one. Ben's enthusiasm and passion for the sport will be missed around the courts next year.
Looking towards the next academic year, I am delighted to announce that our Keepers for next year will be Beau Swallow (JDN) and Milo Russell (PGW).
Furthermore, I'm pleased to announce that Henry Wilkinson (RDOC) and Seb Hopkins (PGW) have been awarded their full Fives colours for their exceptionally performances this year. Whilst Henry Daly (JDN) and Jake Turcan (RDOC) have been awarded their half Fives colours.
It's always the case at this point of the year, that I need to pay tribute to the hard work of others and the few lines below fall considerably short of the praise their efforts deserve.
Firstly, to Miss Sherisa Gumbs who has seen her workload double this year. Sherisa has worked exclusively with the younger years, specifically F Block, where her enthusiasm and passion for the game has helped drag pupils onto the courts. No one else is happier to put their hand up for the distant and cold Shrewsbury away fixture or willing to give up their Sunday's to take boys to competitions. Without her help, the Fives programme would certainly not be anywhere near as efficient as it currently is.
Finally, it's hard to write a Fives report at Eton College without mentioning Mr Ralph Oliphant-Callum. Ralph steps down from Durnford House at the end of the year and it's hard to think of anyone who has had a bigger impact on Eton Fives at the college than him. Every Tuesday and Thursday without fail, Ralph will be either spectating the Fives matches or donning the gloves and teaching the boys how to play. Over the past decade, the vast majority of Fives players have come from RDOC, whilst this is gradually changing – it's a testament to his impact on the game at Eton. Furthermore, under RDOC's leadership, Durnford have won all of the internal Fives competitions during his tenure. His hard work and passion for the support of Eton Fives was duly recognised in 2019 with the EFA awarding Ralph with the 'Unsung Hero Award'. These words do little to underline the gratitude and respect I have for the master who has breathed life back into the wonderful sport of Fives at Eton. His oasis of wealth and knowledge, in every facet of life, will not just be missed at the Fives courts when he embarks on his sabbatical next year, but all around the school.

We've had an extremely successful season once again, with a remarkably talented crop of Eton Fives players throughout the whole school. Ralph's departure will undoubtably be a significant challenge to overcome, with the impact of losing such an influential Fives supporter in the school. A potential lack of staffing, combined with the redevelopment of the sports complex could leave Fives at Eton College in a precarious place. More hard work, support and commitment for Fives is essential at Eton College in order for Fives to continue to thrive.

George Thomason
Harrow
No report received yet
Highgate
No report received yet
Holyport
After the loss of a number of senior players, Holyport Fives continues to grow and develop.

This year we traveled and hosted a number of different fixtures against Eton, Cranleigh, Mill Hill and even completed our first Saturday fixture, traveling to Aldenham where the U15 boys were well matched and had a great morning of Fives.
The girls still rule on the fives court at Holyport College and they have seen success in both the U25 and U21 National Tournaments. Under 15s, S.Wisa and D.Clake continue to thrive winning plate B in the U25s. M.Martin, I.Kent, M.Kemball and S.Wisa also attended the U21s with Martin and Wisa winning in Plate B.

The girls also combined forces to create a team for the Richard Black Cup with the addition of A.Sershi, M.Russell, B.Powell-Harper and S.Romero.

Lower down the school we also entered 6 pairs in the U13 Nationals at Harrow, T.Fitzgerald and I.Jones won plate A. M.Walker and J.Russel competed fanatically throughout the day making it into the last 16.

After their first ever fixture against Berkhamshed the U12 boys attended the Nationals with huge amounts of enthusiasm even on the coldest day ever, with M.ladimeji and H.Harris making the last 16. I was delighted when O.Clarke and C.Duncan won Plate A in the U15 qualifying tournament, as they had training hard throughout the season. Away from competitive fives we still teach six lessons a week at Eton and Friday Fives Club continues to be a highlight for all our boarders, as it's the best way to start the weekend.
Faye Kerr
Ipswich
Open qualifying tournament; Ipswich girls at Highgate; Graves Cup finalists; REFCA U14 tournament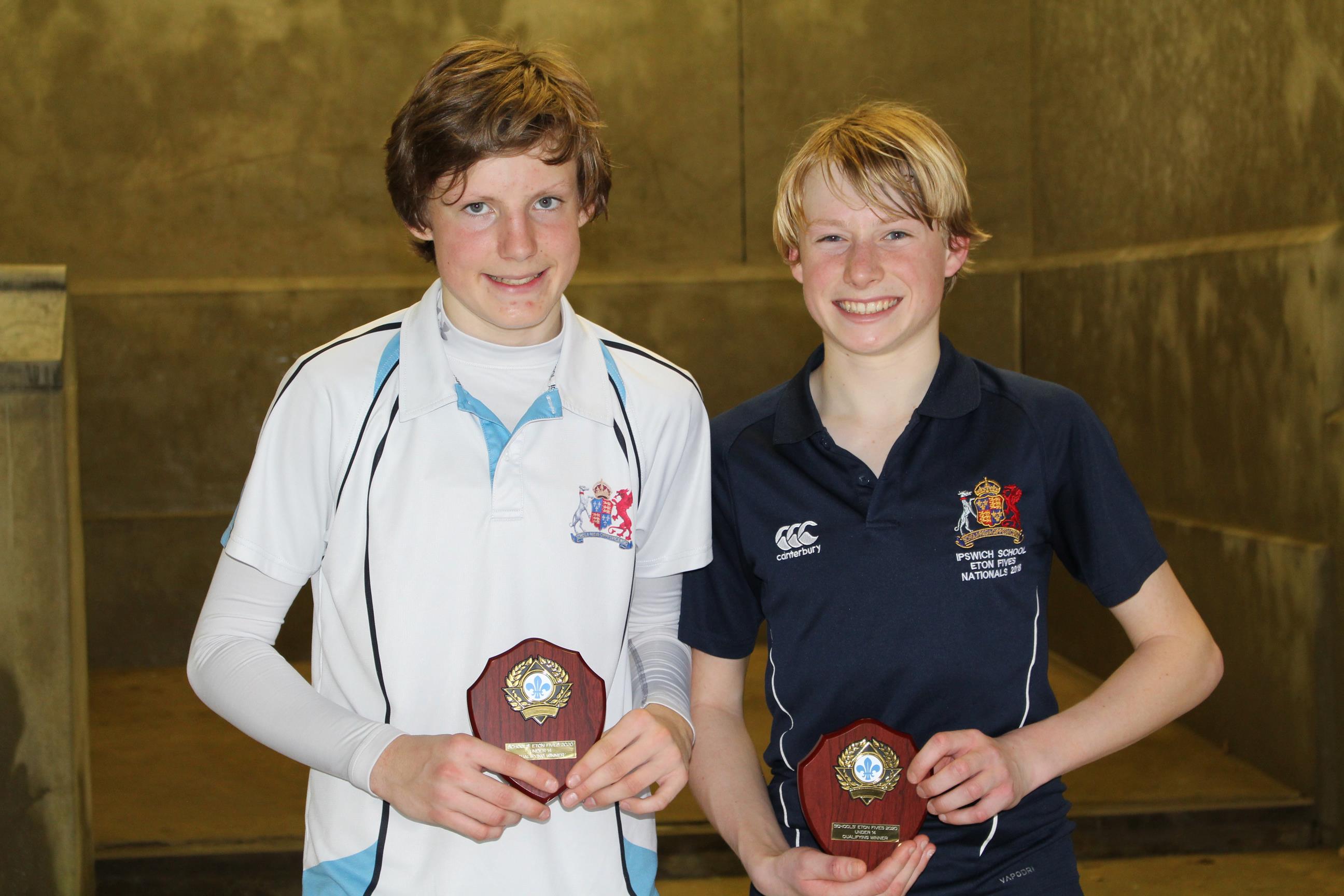 U15s; U14 qualifying winners; Northern Tournament; REFCA U12 tournament
2019-2020 was another most enjoyable season in spite of the frustrating end. We played 10 matches and participated in thirteen tournaments, as well as the Schools' Championships competitions that were held.
There were some new elements to the season this year. The inaugural Thring Trophy for U14 beginners, at Uppingham, was a superb vehicle for getting a couple of very shy Ipswich girls to venture into competitive fives for the first time. Thinking they were not good enough, once walked onto court and under way, they found they could certainly compete. Winning a close first game set them on their way, hopefully to a lifetime of fives – we can only hope. It was brilliant to meet with Shrewsbury U15s at Cambridge, giving some of our boys and girls a rather more competitive workout than they would normally get on a Wednesday afternoon. Despite being comprehensively beaten it was also an experience to see the University's impressive courts and sports centre. Another first was taking a mixed age girls' side to Highgate on two occasions, both of which proved excellent, fun, outings. The first was originally to have been the REFCA U18 event but David Mew kindly took on the running when the normal arrangement was knocked off course. It did no harm to the morale of Ipswich's Lily Rendell, Zhang Pulchan and Helena Bishop who ended up in the final and played as well as I have seen them. The match against Highgate in January went 2-4 against us but was still a great day, with good fives and a useful experience.
Our boys' Captain, Isaac Weaver, had a good season, making the quarter-finals in the Midland Championships (with OI Steve Burnell), London Festival (with fellow sixth former Matt Johnson), Graham Turnbull Trophy (with Cam Lyle) and in the Kinnaird Festival (with Nick Choustikov, CU). He and Lily Rendell managed to win what is believed to be our first mixed pair victory against the EFA on their visit to Ipswich before Christmas. It was such a shame that he was unable to see how he could do in the Schools' Open. How opportune then, the decision to hold an Open Qualifying Tournament, which gave Isaac and partner Matthew Johnson, the satisfaction of winning the new competition. Second pair, Charlie Tweedy and Tom Conway reached the semi-final and so also qualified for the un-played main tournament.
Thanks to the addition of the new qualifying tournaments we still managed to involve forty-five pairs in the Championships. In the U12 Qualifiers we had five pairs qualify, with two making the quarter-finals. Two of our U13 boys' pairs reached the last sixteen, as did one of our U13 girls' pairs (both U12s so a good effort). The U14 boys did well in their qualifier, with Will Woods and Elliot Caldwell making the last eight and then winning the 'smaller schools' final. It was great to welcome back Luke Kearton for that competition after a long layoff and helping Sam Allen to the A Plate title. Of our U14 girls' pairs, two made the quarter-finals in their championship and Aisha Parker and Helena Bishop, the semi-final. The U15 boys did fantastically in their qualifier, despite the absence of first pair Hugh Catchpole and Rohan Soni who, having made the U14 quarter-finals last year were disqualified from the U15s. Four of the U15 pairs made the quarter-finals and Sankaman Malaravan and Rohit Bhagwat beat sparring partners Alex Dunning and Will Kelly in the final but only just.
It was great to have success in the U12 REFCA competition with Reuben Alty making the final (traumatised by the Wiseman buttress shootout though) and Pip Rawlings helping to win the girls' final whilst displaying the most un-Ipswichian like determination to win at all costs.
Amidst the frustrations of non-availability because of hockey, netball, cricket, rugby, music, drama, work, family events and even illness and injury, it was heartening to have a huge increase in the uptake for adult tournaments. Maybe the right planets were aligned but 13 for the Midland, 16 for the Northern and 25 for the London was fantastic. We tried to clear the Plates at the London with Anna Clough and Charlotte Pudney winning the E Plate, Ollie Garrard and Lily Rendell the C Plate, Victor Whytock and Will Woods the B Plate but Silas Weaver and the redoubtable Tony Stubbs dropping the A Plate in the semi (shame!). Royal Holloway apparently disappeared with the D Plate before we had a chance to steal it. We made sure of the A Plate in the Northern Festival by having three pairs in the semi-finals and Luke Free and Sankaman Malaravan proving the final victors. Such enthusiasm for the game has to bode well for future post-school indulgence in our wonderful sport. Fingers crossed.
We were, as always, hugely indebted to all who have worked to make the matches and tournaments we have played in possible and to those whose hospitality we enjoy. Thank you so much.

Peter Boughton
King Edward's, Birmingham
KES boys at Eton
Academic year 2019/20 saw the return of Eton Fives to King Edward's. In the second half of Autumn term lunchtime fives restarted once a week, before quickly becoming a twice weekly feature, most of the games being the up-step game known locally as Fiddles (if Mr Tinley is to be believed).

Spring term saw the first competitive matches. Going straight into the deep end, two pairs participated in the U13 and U12 National Championships respectively. Given this was their first significant experience of full court Fives the boys did remarkably well against far more seasoned opponents. Particularly pleasing was the U13's first victory, a 6-2 demolition of a pair who two hours earlier had beaten them 6-1.

For the second half of Spring term, Fives reappeared on the Friday afternoon activity list, although ultimately the weather never quite behaved sufficiently. The summer term has naturally been caught up in wider events, but looking ahead to next year, we have a dedicated band of engaged and interested pupils keen to play plenty more fives.
Tim Wyndham
Lancing
No report received yet
Ludgrove
The Ludgrove fives team had a busy season. Our first pair turned around 2 defeats to Sunningdale in the Michaelmas to a win in January and a loss to Summer Fields in December also became a win in February. This would have drawn them as second seeds for the Preparatory School Fives tournament at Harrow which could not be held due to the Coronavirus. The other U13, U12 and U11 pairs fared well in their matches winning their fair share. There is plenty of promise in the younger years with a strong squad of 6 or more in each year group. Here's hoping we can all be back on court in September.
Guy Smith-Bingham
Lyceum Alpinum Zuoz
Unfortunately there is not much to report this year since our fives season (trip to Eton, various matches with old boys and the end of year summer games) has been a victim of coronavirus.

Earlier in the year Matt Wiseman visited for his coaching stints as he has been doing for many years. Fives continues to be popular with both local and international students with 22 pupils booked in for the trip to Eton in late March., Hopefully normal business will resume next school year!
Mark Dobson
Mill Hill
Summers Cup; Mill Hill at Shrewsbury; Summers Cup winners
Sienna & Evelyne; U15s at Eton
The season started with the annual Summers Cup where a current pupil is partnered with an Old Millhillian on the first Sunday of term. We had a strong 10 pairs this year and the competition was again a great success at building the links between the school and the OM's club. It was won this year by Jed L & Lukas V (OM). Thank you to all the OM's that agreed to come and play.

Mill Hill had a strong group of players come through from Belmont, both male and female, this year which was great to have alongside a small number of beginners giving it a go in the Autumn term. A lack of Upper 6th pupils gave a good opportunity for a couple of Lower 6th boys to step up into first pair and gained some great experience by doing this. Two pupils also made their debut for the Old Millhillians team in Div 2. Further down the age groups, the U14s progressed well through the year with some good and well deserved wins.

However, there was the reoccurring issue of pupils being dragged in lots of directions of school life and therefore weren't always able to get the training that was needed on a regular basis. The majority of after school clubs were moved to lunchtimes in order to try and build some interest and remove clashes which had a little success but not as much as originally hoped.

The girls club numbers continue to grow with a strong mix of standards and ages and now the third year of a full girls programme we have strong numbers up to Year 11. It is encouraging to see it grow as quickly as it is and an increased fixture list for girls is certainly a project and aim of the future.

With COVID-19 forcing the premature end to the nationals and the season, it was great that Mill Hill still had the opportunity to compete in the national qualifying competitions. The U14 and U16s reached the semi-finals of these competitions, with the U18s and U15s reaching the quarter-final stage.

Thanks must go to Steve Plummer who constantly provides support when needed to Fives at Mill Hill. Thanks also to Riki Houlden who on occasions has come in to run masterclass sessions with some of our pupils.

Season awards went to:

Boys Junior player of the season: Jay M

Boys Junior most improved: Robert E-S

Girls Junior player of the season: Lauren D

Girls Junior most improved: Katy S

Boys Senior player of the season: Nick J

Boys Senior most improved: Eddie H

Girls Senior player of the season: Evelyne F

Girls Senior most improved: Sienna T
Andrew Rennie
Oakham
This year began with positivity; fixtures booked in, a growing core, and a number of new students of all ages trying the sport for the first time. The winter term saw highly competitive fives home and away with Uppingham. We also attended the Thring Trophy at Uppingham in the spring term, where some of our beginners and learners were able to up the standard of their game with some serious competition. This festival brought together a number of schools including Shrewsbury, Ipswich and Stamford. Any coach would agree that development comes on some way with healthy competition and tournaments. I have seen great progress in many of our players. We were also able to play Uppingham for the 'Challenge Cup', successfully won against and evenly matched pair, by newly formed pair Ben Kelly and Adam Kapadia. The girls pair of Alexandra Romanov and Emilia Hubbard also had success on the courts, and we wish Emilia all the best as she leaves school – a great ambassador for the sport. Some of our events were of course affected by recent events, including house and staff/student matches; however, we hope to be back to playing Eton Fives again soon.
Nayan Chohan
QE Barnet
QE Boys enjoyed another successful year of Fives, and continue to grow the support within the school. The exciting development of new courts within the school have been met with a bit of trouble, but the plans are still in place - being backed fully by the headmaster! We have enjoyed 21 fixtures this year, as well as entering every National tournament, especially enjoying the new qualifying tournaments that we really felt ensured the boys enjoyed these tournaments. We have had 46 boys represent the school this year, of which 22 are students in Year 9 - so we are confident that the sport is continuing to grow at the school. We'd like to thank everyone who has had fixtures against us this year, as the boys really do enjoy these opportunities; especially Harrow and Aldenham for hosting so many fixtures for us.
Olley O'Gorman
Repton
Proof of the Repton renaissance!
Fives at Repton made a proper comeback during the 2019/20 season under the support of new headmaster Mark Semmence. To date, sessions have been offered in a very ad hoc fashion around the busy schedules of the pupils and around forty of them have attended overall, with a core group of around fifteen boys and girls turning out once or more each week through the winter. The game sold itself to them and merely getting pupils into the courts was the key.

There was enough interest and enthusiasm for a friendly fixture with Shrewsbury School and their novice players. Although Repton were comprehensively defeated, this was not the point and all the players learnt a lot and most importantly, enjoyed themselves. In addition, two of the keener and more able players, Joe Sookias and Henry Barton Smith, travelled to Eton to play in the National Schools Under 15 qualifier event. They had a fantastic day, learning plenty and securing some good results along the way in some of the many plates. Some boys and girls senior pairs were due to play in the same competition at the end of March, but alas, the virus made this an impossibility. Next year, the aim is to build upon the player pool and keep the enjoyment levels as high as is possible. I look forward to reporting on more enjoyable Fives activity next year.

David Exley
RGS High Wycombe
No report received yet
Rydal Penrhos
No report received yet
St.Bartholomew's
No report received yet
St.Olave's
No report received yet
Shrewsbury
No report received yet
Stowe
No report received yet
Summer Fields
No report received yet
Sunningdale
We had a very successful season on the Fives Courts and it was just such a shame that we did not get to compete in the tournaments at the end of term because our prospects looked good.

We beat Ludgrove at Under 13 level despite the first pair having an off day and losing. The Under 11 first pair were also victorious against them. We had two very good matches with Charterhouse which we also won. We travelled to Summerfields for the first time in a while and the first pair played very well to beat strong opposition. We ended the season with a very good win away at Eton.

We are delighted to be welcoming George Thomason from Eton on to our staff in September. This will give our fives a real boost.
Tom Dawson
Uppingham
The Thring Trophy
Following the success of the World Record, the fives team was off to a strong start with the addition of three new players and a handful of regular fourth form attending Fives Club. It was great to see a significant rise of interest in the sport from both pupils and staff alike this year. Our first match was against Shrewsbury, which was a fantastic way to start the season for our new members, as it gave them the opportunity to practice against some highly experienced opponents. Throughout the term, we have played against a wide variety of teams, including Cambridge Club and University and Berkhamsted, where we were able to show particular skill and knowledge of the game. There have been superb fixtures against Ipswich and Oakham this year, with Jasper and Freddie winning and retaining the Challenge Cup; a trophy for the winners of the Oakham vs Uppingham match. Our Fourth Form Fives Club has also been a huge success, with many new members of the school coming along to play on Friday afternoons and Sunday mornings. This is very encouraging for the future of Uppingham fives and we hope to see the sport continue to grow for years to come. As well as interschool matches, there have been multiple internal competitions such as Scholars and Rogues, which was won by Charlie and Miss Stevens, and Celebration of Sport, with standout performances from Hugh in the juniors and Aslan in the seniors. This year also saw the inaugural introduction of 'The Thring Trophy' which was competed for by Shrewsbury, Uppingham, Stamford, Oakham and Ipswich. Particular congratulations should go to Stamford for reaching the final where they were eventually beaten by a very strong Shrewsbury pair.

Off the court, we were honoured to have hosted the OU's Fives Dinner, which was a great way to celebrate the history of the sport at Uppingham. Sadly, due to unforeseen circumstances we were unable to attend nationals this year, which was of course a disappointment to the team as for many it is the most important tournament of the year. Fives at Uppingham still has many challenges but I am very confident that I am passing the torch on to a great group of dedicated players, who I am sure will further our success. I would like to thank my Vice-Captain, Blair for supporting me so much throughout the year, Miss Waymark for coming to many a fixture with us, and most of all, Mr Holroyd for his unfailing enthusiasm, dedication and support, who without none of this would've been possible.
Westminster
No report received yet
Wolverhampton Grammar
Fives is ticking along at WGS, with a club after school on a Friday and some excellent coaching from Charles Plummer. We did not however have any competitive fixtures. We will continue to do all we realistically can to keep the game going at WGS.
Nigel Crust
Wrekin
No report received yet